La casa para un Chef.
Delicias en el bosque, comedor integrado al verde principal, cocina iluminada, transparencia. Afuera otro comedor en una terraza con cocina encima de la topografía.
Fragmentación y exaltación de la naturaleza, valores contemporáneos aplicados a esta obra nacidos de la voluntad de preservar los arboles y la topografía. Una obra concebida para existir con un mínimo de impacto sobre la naturaleza, una obra que casi no es.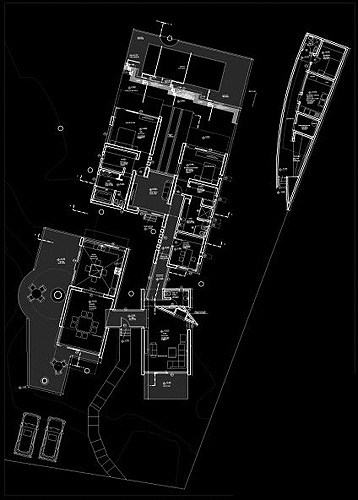 La casa es más grande de lo que parece, desarrollada en una planta, de manera que las copas de los arboles la cubran y le den cobijo. La circulación interior se torna en un paseo, que resalta el significado de la casa alargada, un paseo sobre puentes sobre paisajes vinculando al usuario con el exterior, el blanco de la casa enmarca la naturaleza y refleja sus colores y recibe la variedad infinita de las sombras de los arboles sobre ella, esta casa no es blanca ni minimalista, es una búsqueda.
Arq. Rolando Aparicio Otero
Ubicación: Jardines de Urubo, Santa Cruz de La Sierra, Bolivia
Superficie de la vivienda: 105m2 aprox.
English Summary
The house for a chef delights in the forest, dining integrated to the main green, illuminated kitchen, transparency. Outside: another dining area, in a terrace, with a kitchen on the landscape.
Fragmentation and exaltation of nature, contemporary values applied to this work, born from the will to preserve the trees and the landscape. A work conceived to exist with a minimum impact on nature, a work that almost is not.
The house is larger than in seems, developed on one level, in such a way that the tree tops will cover it and shelter it. The internal circulation turns into a promenade, that exemplifies the meaning of the long house, a stroll over bridges, over landscapes, linking the user with the exterior, the whiteness of a house framed by nature that reflects its colors and received the infinite variety of the shadows of the trees above it, this house is not white nor minimalistic, it is a search.